Image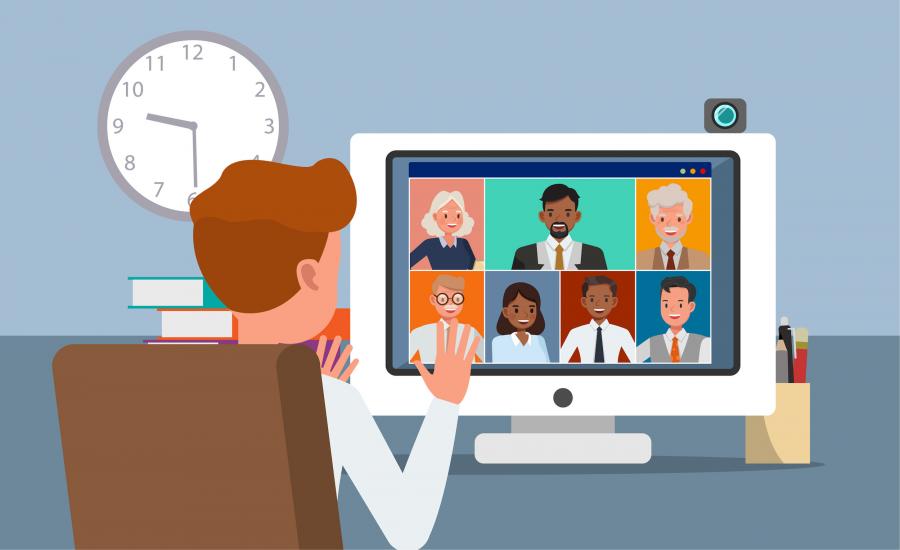 Participants of team synthesis projects under SESYNC's Building Resources for Complex, Action-Oriented Team Science theme recently compiled their best tips for engaging online participants in meetings. Read their blog "Effectively Including Online Participants in Onsite Meetings" below, republished with permission from Integration and Implementation Insights. 
With increasing interest in online participation in workshops, meetings, and classes, are there useful protocols to ensure that online participation is effective? Mixed onsite-online meetings are probably the hardest to manage well. How can you effectively include online participants, so that they don't feel marginalized and ignored? How can you ensure that everyone has a chance to share their expertise and perspectives, and benefits fully from the meeting?
We draw on our experiences in four different interdisciplinary academic teams that held three-day meetings across wide time zones. We provide a protocol for effectively managing meetings rather than the necessary technical requirements, and welcome comments on the latter. Different technological set-ups will have different strengths and weaknesses, so some of our lessons will require modification depending on the exact circumstances. Many of our suggestions are also relevant to online-only meetings.
Set-Up
Ensure that the technology is up to the tasks required, especially that there is excellent audio and preferably also video.

Ensure that a technical expert is on hand to check that everything is working properly onsite, and to help online participants handle any glitches that arise.
Have a practice run beforehand!
Make it easy for everyone to identify everyone else—if you don't already know each other, consider providing:

A list of photos and names
Large nameplates that can be read by online participants and visible name identifiers for online participants.

Decide if any ancillary technology (e.g., Google Docs) will be used ahead of the meeting and make sure everyone has access to it.
Plan small group work ahead of time and think through what's necessary for online participants to be full members. For example, will you divide the online participants and have them join different small groups, or will they form their own small group? How will the technology work in each of those situations? Bear in mind that while two onsite small groups can work in the same room, this often does not work well when there are also online participants. (See notes on soundscape below.)
Tips for Onsite Set-Up
Ensure that the screen showing the online participants includes them in the meeting. (e.g., Don't have onsite participants sitting with their backs to the screen.)

Delegate someone to manage what the online participants see and to use the technology to its full capacity. (e.g., If online participants can only see part of the meeting room, make sure the camera moves to take in where the discussion is occurring, and if there is a zoom capacity, zoom in on the person speaking.)
If possible, delegate this task to a someone who is not a meeting participant, so that they can focus on it fully.
If this task is undertaken by meeting participants, rotate it amongst the participants.
Tips for Online Set-Up
Ensure that your computer audio is up to the task. If it is not, invest in a microphone.

Use headphones to enhance your ability to hear; make sure they are comfortable, especially for long meetings.
Review how you appear on-screen. Cameras built into computers often show you at a poor angle; consider investing in a separate camera that you can look into directly. Adjust the camera distance and angle so that your face is well-centered on the screen and a good size (not too small or too large). Be aware of what viewers will see behind you.
Participation
Remember:
It is harder to build relationships when you are not interacting face-to-face.

There is often a time lag, especially when online participants speak.
Tips for Onsite Participants
Make space for the online participants to contribute.

Make eye contact with online participants as well as those onsite.

Monitor how the online participants are going. This can be done by:

Have regular check-ins, including monitoring the chat (commenting or messaging) system.

Use a buddy system pairing online and onsite participants, who connect during breaks and also via chat or email during the meeting.

Record shared ideas in a way that is accessible to everyone:

Use an inclusive technology. (e.g., Have someone record ideas on their computer, which is both projected into the room and screen-shared with online participants).
Note that online participants generally cannot read what is written on a whiteboard or flip chart.)
If you must use a white board or flip chart, delegate someone to take photos and to share them with the online participants.

Organize a process for filling-in online participants on important onsite conversation outside the meeting (e.g., over dinner or lunch).

Be mindful of the soundscape and your contribution to it. Microphones do not filter sound in the same way that your ears do. Online participants can hear everything that is happening in the room, including the side conversations. If there are too many side conversations, clatter from cups or plates, or papers shuffling, or if there is background noise (machinery, for example), this is much more disruptive for online than onsite participants.
Tips for Online Participants
Treat the meeting in the same way you would if you were present onsite:

If there is a time difference, adjust your body clock and meal times.
Allocate time to the meeting appropriately. (e.g., Do not try to do your day job as well as participate in the meeting.)
If you cannot be present the whole time, let the chair or facilitator know.

Become adept at muting your microphone when you are not speaking and turning it on before you do.

Participate! Recognize that it is harder than being in the room and push yourself a little more to have your say.
If you miss something, ask for it to be repeated.
Liaise with the other online participants and speak up if something is not working with either the technology or the way the meeting is being run:

The chat function is useful for checking in with other online participants.

Be mindful of what the onsite participants can hear and see:

If you are wearing headphones, you will not hear background noise at your end, and the noise may be disruptive for onsite participants.
If you eat during the meeting, mute your microphone and turn off the video.
Tips for Chairs and Facilitators
Ensure that the tips above are implemented.

Ensure that the times listed on the agenda reflect all the times zones across which the meeting is held.
Be clear about how you want to manage the flow of conversation and turn-taking. Make sure it works for the online participants. (e.g., if you want people to raise their hands, make sure you can see when online participants have their hands raised.)
Do not try to do everything yourself. (e.g., Get others onsite and online to monitor when people want to speak and how the meeting is going.)
Alternate between online and onsite participants when calling on people to speak.
Invite everyone to reflect on the process at the end of the meeting to build additional learnings.
What has your experience been with mixed onsite and online meetings? Do you have additional tips to share? Do you have examples of when things have worked well and when they have gone badly, along with lessons learnt?
The original post is available here from https://i2insights.org/.