Former SESYNC postdocs Phillip Staniczenko and Lorien Jasny recently led a new online version of their SESYNC short course Introduction to Social and Ecological Network Analysis. Combining approaches from both the social and natural sciences, the returning course aimed to inform new strategies for studying socio-environmental systems using network analysis, which focuses on the relationships among entities to explain emergent properties of complex systems. Having taught the course in the past in-person at SESYNC, Staniczenko and Jasny reconfigured the course this year, so it could be taught online due to COVID-19.
Staniczenko, now an Assistant Professor of Biology at Brooklyn College, City University of New York,  said that while about half of this year's participants were trained in the social sciences and the other half were trained in the natural sciences, all had a common interest in using networks analysis to address pressing socio-environmental questions. 
The short course's participants represented a wide range of experiences and research interests. In fact, Staniczenko said this year's group of 16 participants included graduate students, postdocs, faculty, and research scientists, hailing from around the globe, including the United States, the United Kingdom, Canada, Germany, Brazil, and South Africa. 
Using Network Analysis to Support an Array of Research 
Due to the attendees' wide range of areas of research, Staniczenko and Jasny, now a Lecturer in Politics at the University of Exeter, said the course saw participants analyzing networks that were as diverse as Twitter networks of the U.S. seed supply system, organizational networks of individuals and organizations involved with the Arctic Research Consortium, and information networks of artisanal fishers in Rondevlei Nature Reserve, near Cape Town. Such diversity in the participants' topics demonstrated the wide applicability of networks analysis to various disciplines in both the social and natural sciences.
Below, a few participants share what they learned from the short course and how they plan to apply networks analysis to their own research in the future.  
Mohlamatsane Mokhatla, Scientist, South African National Parks
Mohlamatsane Mokhatla's research focuses on the conservation of Marine Protected Areas (MPAs) as social-ecological systems. Mokhatla shared that he hoped to use network analysis to better understand how information flows throughout the informal fishing system, comprising about 19 villages, in the Tsitsikamma MPA in South Africa.
"Understanding how information flows in these communities will go a long way in assisting us to manage the system as a social ecological system that MPAs are known for," Mokhatla said. He hoped this analysis would lend insight into how his team could improve the efficiency of how information is disseminated, the management of the fishery, and the effectiveness of communication that could impact the fishermen's behavior.
Mokhatla shared that "Exposure was the key for the week—exposure to exciting developments occurring in the network analysis space and the idea that one could analyze data in both the social and ecological space using Bayesian networks. I was also interested in the analysis of longitudinal network data. Very exiting!"
---
Liza Wood, PhD Student Ecology, University of California, Davis
PhD student Liza Wood attended the short course to aid in in her research, which she describes as being at the junction of agroecology and agri-environmental governance. In her research, Wood said she examines questions about how to manage environmental resources related to the food system. "For example, I work on issues such as the effectiveness of information-based policy tools for reducing non-point source pollution, and seed system governance for climate change adaptation," she said.
Since social capital and information networks are key drivers of human decision-making, Wood said she felt that network analysis would be a useful tool for looking at governance, particularly since her research investigates how information networks influence the approaches taken to manage adaptations to climate within the U.S. seed system. Looking forward, the tool would also be helpful as Wood said she plans to gather data on germplasm exchange networks between the U.S. private and public sectors. She hopes to use the information to find solutions for how to increase the sectors' capacity to adjust to climate change. 
Following the course, Wood said "I feel more confident in the language and reasoning of permutation testing, and how we use simulated random networks to establish a baseline against which to compare our networks. While there is still much to learn, this advanced by network understanding to the next level."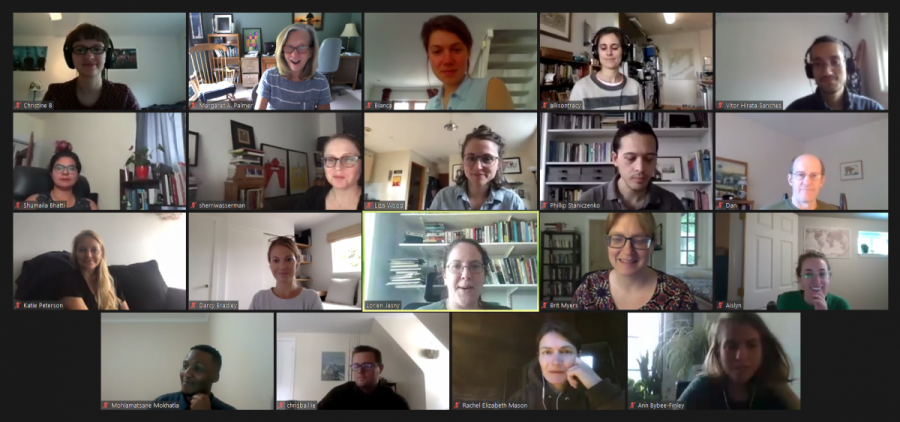 ---
Brit Meyers, Project Manager, Arctic Research Consortium of the United States
Participant Brit Meyers is currently examining the engagement of the Arctic research community in programs and events hosted by the Arctic Research Consortium of the United States (ARCUS) and their partner organizations. Meyers aims to use that information to contribute to ACRUS' initiatives focused on community-building and research support.
Meyers said "Applying the theory, tools, and techniques of network analysis will help in identifying new patterns and gaps in community participation over time; allow us to ask more sophisticated questions about community structure; and aid us in communicating the profile, dynamics, and stories of the Arctic research community network to broader audiences."
Based on what she had learned through the course, Meyers said she was going to change her approach to doing analyses. "The SESYNC Short Course outlined key network descriptions and analytical models that can be applied to our network data and provided a practical tutorial on the use of R to conduct these analyses," she explained. "I was not using R for network analysis prior to the course, I definitely will be moving forward!"
Reflecting on the course, Meyers said "I was very excited to see the many different examples of what can be achieved with smaller data sets (i.e., those that had only a few nodes, comparable to the size of the research project teams I work with). For me, these examples radically expanded my view of how network analysis might be used from a 'science of team science' standpoint to explore how the network attributes of the scientific teams might relate to positive interdisciplinary research outcomes." She added, "I also found tremendous value in exploring the differences between the way social scientist vs. ecologists approach network analysis."
---
Christine Beaudoin, PhD Student, Sociology, University of Ottawa
As a PhD candidate in sociology, Christine Beaudoin has an interest in incorporating non-humans into how we currently understand our social worlds. With a research focus in social-ecological integration, collaboration, and governance in historic Canadian waterways in Canada, Beaudoin became interested in using network analysis to understand the complexity of relationships in social-ecological systems. She said, "The course was helpful to understand what kind of data I need to collect to ensure that I can use the statistical techniques discussed during the course to conduct social-ecological network analysis."  She said she would also be able to apply some of the techniques she had learned to some social networks data that she had already collected.
Beaudoin also shared, "My key takeaway from this course is that we need intimate knowledge about the system we are working on to make network analysis meaningful, and that collaboration with people who have knowledge of the system or knowledge of complex network methods is a valuable way of generating new findings about the structures of social-ecological systems."
Creating a Network
While the coronavirus pandemic continues to post unique challenges to in-person learning, Jasny and Staniczenko strove to create a collaborative experience online.
"At some point, I even forgot that I was sitting in a room alone for the duration of the course," Mokhatla said. "I think Phillip and Lorien made the course very interactive and we could ask questions at any point during the different presentations, no matter how simple or stupid the question might have been. They engaged each question with the same vigor, irrespective of its complexity."
And though participants might not have had the same opportunity to connect with one another during the virtual course as they might have if meeting in person, a few said they were still able to forge connections through online program and look forward to building those working relationships outside the course. 
Beaudoin said, "Overall, I had a great experience with the course: I learned a lot of new technical skills, which was accompanied by theoretical and conceptual discussions, I also got to meet people who are doing very interesting work with networks and whom I could potentially collaborate with in the future, and finally I was exposed to numerous great resources to continue my work beyond the course. I also look forward to continuing the conversations I initiated with other course participants."
Learn more about the course here.