The National Socio-Environmental Synthesis Center (SESYNC) and the Long Term Ecological Research Network (LTER) are pleased to welcome Dr. Jenny Zambrano, a SESYNC–LTER Postdoctoral Synthesis Fellow. Get to know our newest researcher:
Name: Jenny Zambrano
PhD: Biology, University of Illinois at Chicago
Hometown: Bogotá, Colombia
SESYNC Project: Effects of Functional Neighborhood, Climate & Geographic Location on Tree Population Dynamics
Mentor/Collaborator: Dr. Nathan Swenson, University of Maryland
Image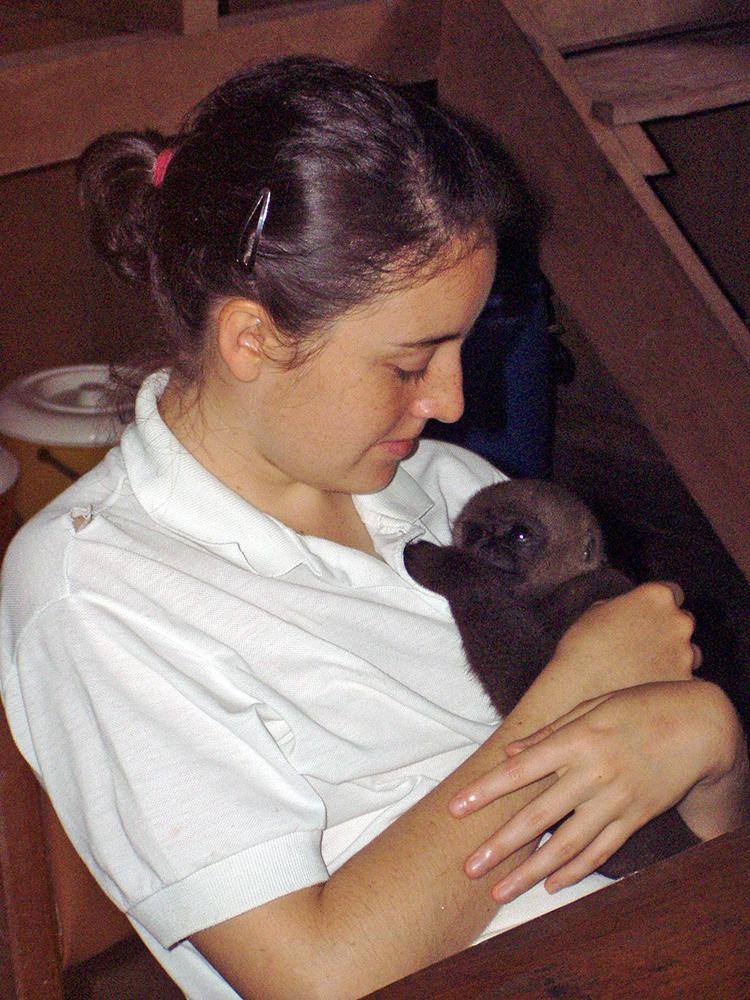 How would you describe your primary field of study?
Plant population ecology.
What does that mean in terms of the broad questions you're interested in studying?
I'm interested in the processes behind forest regeneration in changing environments—especially in places that experience anthropogenic effects—at a population level. As an example, my research as an undergraduate in the Amazon tested the Janzen–Connell hypothesis to determine how illegal hunting affected the recruitment of two tree species dispersed by primates. For my PhD dissertation I conducted a study at the Los Tuxtlas forest in Southern Mexico looking the effects of forest fragmentation on the population dynamics of a late-successional tree.
What inspired you to choose this field of study?
My dad is from the Amazon and my mom is a plant biologist—my passion for nature and my interest in the forest comes from them. And I couldn't have picked a better place to be born than Colombia: the diversity of ecosystems in one country has always amazed me.
Can you briefly describe your proposed SESYNC postdoctoral project?
The mechanisms that shape the structure and composition of plant communities, and how those mechanisms vary throughout different climates and geographic locations, are not well understood. At SESYNC, I will be synthesizing data from long-term forest plots—including the Harvard Forest LTER program, Hubbard Brook Ecosystem Study, and Luquillo LTER program—and data from the Forest Inventory and Analysis (FIA) Program. I will also be developing spatially-explicit neighborhood models that will help us better understand the interaction between individual plant traits (such as plant height and root depth) and the environment, at both small and large scales. Ultimately, the goal of this project is to help facilitate management-relevant predictions of how global changes may impact plant communities.
Why is SESYNC the right place to undertake this research?
SESYNC provides the computational capacity and support necessary to perform the synthesis of large data sets that I'm interested in. But the center also offers the potential for collaborations, not only with ecologists but with scholars in fields outside my own, such as economics. Those kinds of collaborations can help me do research that translates from the ecology community to policy makers.
What's your favorite scientific theory?
Evolution by natural selection would have to be my favorite theory that may shed some light on why tropical forests are so diverse. I have always been puzzled by the high levels of diversity found within this type of ecosystem that covers less than 7% of the Earth's surface, which is what makes them so special.
What's your favorite science word?
"Statistically significant." Because when you can describe your results as statistically significant—the feeling is just, yes!
What's your least favorite science word?
After all the field work I've done in the Amazon, I have to say "mosquito."
What are you reading right now?
One River by Wade Davis. Anytime I find myself missing the Amazon, I just read that book and it takes me back.
The National Socio-Environmental Synthesis Center, funded through an award to the University of Maryland from the National Science Foundation, is a research center dedicated to accelerating scientific discovery at the interface of human and ecological systems. Visit us online at www.sesync.org and follow us on Twitter @SESYNC.