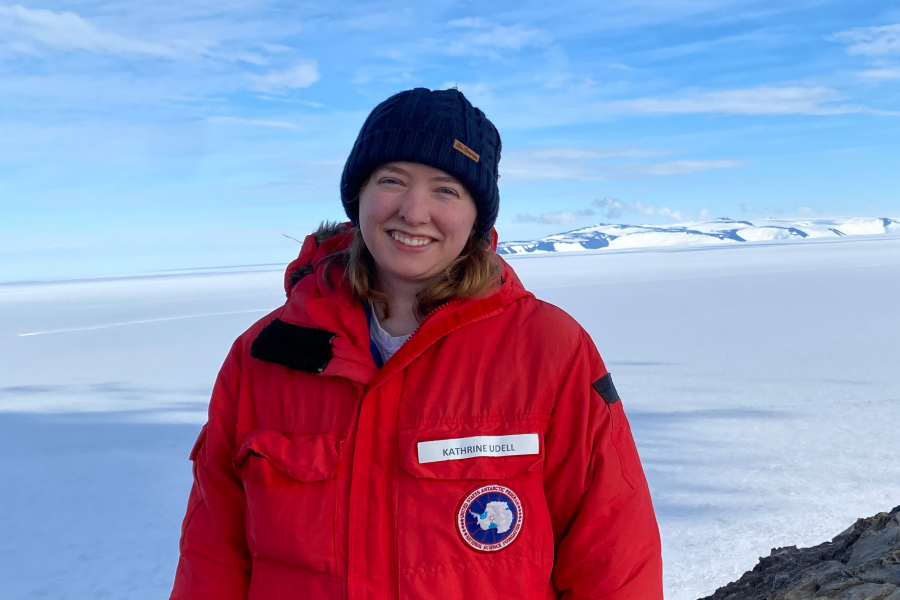 The National Socio-Environmental Synthesis Center (SESYNC) is pleased to announce that University of Maryland (UMD) graduate student Kathrine Udell Lopez is this year's recipient of the Dr. Richard Payne Graduate Fellowship Award. This fellowship aims to recognize excellence in graduate students within UMD's College of Computer, Mathematical, and Natural Sciences by supporting innovative and actionable research that directly links social and environmental sciences. The award honors Dr. Richard Payne, a UMD Professor of Biology, University Senator, and a dedicated instructor and mentor for students and postdoctoral fellows.
Kathrine is currently a second-year PhD student enrolled in the Department of Geology. She is studying the cryosphere, which is the frozen part of the Earth's surface, including glaciers; ice caps; sea, lake, and river ice; and ice sheets. Because the cryosphere plays an important role in regulating the climate and sea level, Kathrine explains that it is one of the regions that is most vulnerable to the effects of climate change—particularly in Antarctica. Thus, Kathrine's research focuses on trying to understand the drivers of ice loss occurring there, which could help inform future climate and global sea-level predictions.
In fact, Kathrine recently completed some field work in Antarctica in January, visiting the Ross Ice Shelf, the largest ice shelf in the world. Ice shelves are large pieces of floating ice that have flowed from the continent onto the ocean. During the excursion, Kathrine and her advisor Dr. Mong-Han Huang set out to collect seismic and GPS equipment that had previously been deployed to measure material changes in an ice rift there. They also made additional measurements of their own. Since the rift zone (a weak or fractured area of the ice) might ultimately result in pieces breaking off from the ice sheet, understanding its behavior is essential to understanding the ice shelf itself. 
"In some of the ice shelves, especially the ones in the Antarctic peninsula…they'll have these gigantic icebergs calve off. And it seems very sudden, and so the transition from solid ice shelf to suddenly broken apart is still not entirely understood." Kathrine explained. "Our study is looking at a rift that's still far away from the ocean, in the middle of the ice shelf, and how does it behave, what's causing it to break and deform versus what's keeping it from propagating further or growing."
With the equipment collected, the field visit resulted in a wealth of data that Kathrine will now need to parse through. The Payne Fellowship will help her to include some undergraduates in the processing and analysis of that data. From it, Kathrine and her team are hoping to understand the difference in material properties between the rift and non-fractured ice. She said hopefully they will provide better measurements for climate modelers who can then make recommendations to policy makers. 
In addition to increasing undergraduates' exposure to this kind of research, Kathrine hopes to engage with younger people who may be interested, as well. With the fellowship, Kathrine is seeking to acquire equipment to do demonstrations of her research on the ice shelf at schools and through local events and programs.
"I got started doing research when I was in high school, and I was mentored by a graduate student," she shared. "And I think that experience really encouraged me to pursue science. So, I see how important that kind of experience and exposure is to younger students—to either expose them to research or nurture their interest in research. So, that's something I'm really interested in continuing to do," Kathrine said. 
Additionally, she hopes to share her fieldwork and experience with both scientists and non-scientists alike—by doing outreach at conferences and in the community. 
Through the fellowship, "I think I'm really hoping to get better at science communication because I think it's a very important skill to have—to take it from something you just do in the lab to something that people can care about." She continued, "In terms of the science, I really think by the end of the year we're really going to have some awesome data products that I'll then be excited to then use the communication skills to share with people."